British Columbia Historic Motor Races
August 18-20, 2017 | Mission, B.C.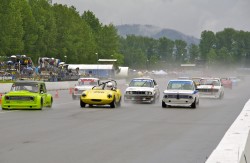 Nowhere will you find a better expression of the true spirit of vintage racing. The Vintage Racing Club of British Columbia's (VRCBC) Historic Motor Races at Mission deserve a great turnout and we hope they get it. Weather has dogged this fun and well-organized event, but at least the new mid-August date should guarantee lots of sunshine.
The multi-purpose race complex at Mission, just a few miles over the border crossing at Abbotsford, is particularly friendly to smaller cars but everyone can have a good time there. The VRCBC currently accepts production-based sports cars and sedans up to 1974. Purpose-built sports racing and open-wheel (monoposto or formula) cars with documentable racing history are to be accepted up to 1990. For entry information, visit www.vrcbc.ca.